As you approach retirement, you have many decisions to make that can be quite complex. Getting Medicare right is an important piece of being prepared for retirement, but is only one of the factors to consider as you look forward to the next stage of your life.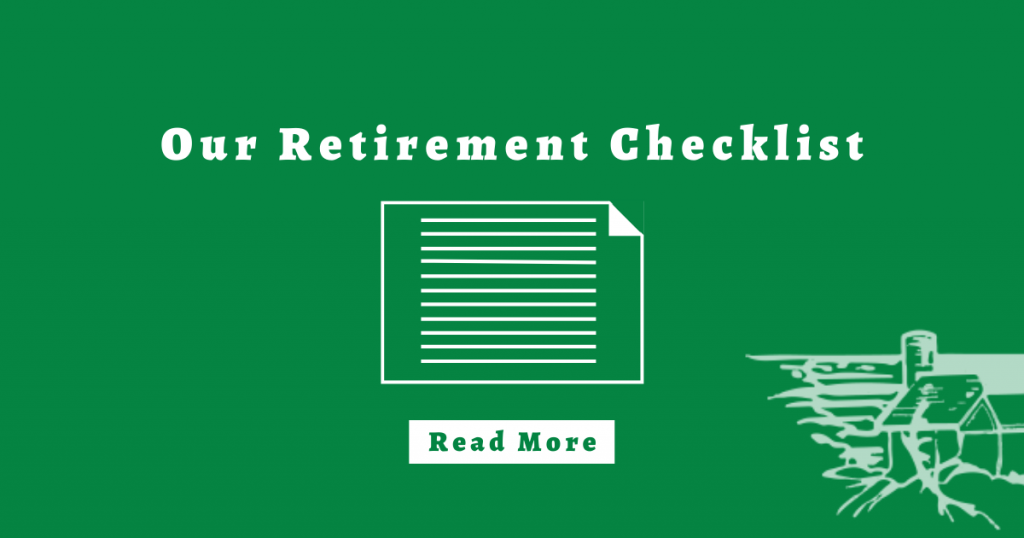 At Southern Maine Retirement Services, we focus on Medicare, but we also see the big picture of how all aspects of your retirement plan come together for you. Doing so helps us to guide you through the Medicare process and select the plans that work for you. Being organized and planning ahead can make everything go much smoother and be much less stressful when it comes time to make decisions and actually retire. In this blog, we've put together a checklist of items you should have prepared or at least be ready to address as you approach retirement.
Social Security
Understanding your Social Security benefits and how they are impacted by when you retire is crucial for having a full picture of your retirement finances.
Full retirement age for Social Security is 66, but people may choose to retire earlier or later. The age at which you retire can impact your benefits, as can continuing to work while drawing Social Security.
Every year, you should be receiving a statement from the Social Security Administration. Included with this statement is an estimate of the benefits you can expect if you retire at full retirement age. We recommend looking at this estimate each year, and then doing the research – perhaps speaking with a professional if you need to – to determine how your plans to retire early, retire late, or other factors may impact what you are expecting for Social Security payments.
Notably for our purposes, being enrolled in Social Security at age 65 does mean you are automatically enrolled in Medicare. If you have questions about this aspect of Social Security, the team at SMRS would be happy to speak with you.
Checklist Item: Look at your annual Social Security statement and do the necessary research to determine how your retirement plans will impact your benefits
Income and Tax Items
As you look towards retirement, it is important to speak with a financial advisor who can help you assess the best arrangement for any income you have coming in as well as your retirement funds. If you already have these arrangements in place, take the time to get to know which types of retirement accounts you have and their tax implications.
Roth accounts, tax-deferred accounts, bank accounts, brokerage accounts, health savings accounts – all of these may be taxed differently, which will have an impact on how you want to or can use the money and what your budget is. You'll also need to understand how Social Security payments, pensions, or other investments will be taxed.
Checklist Item: Speak with a financial professional about how retirement accounts and other income will be taxed
What Medicare Options Are Available?
Knowing that you have health insurance that will be adequate for your needs while not unduly straining your budget is key to enjoying retirement. As you approach age 65, whether you choose to retire then or not, it's time to start assessing your Medicare options. If you keep working past 65, you may decide to keep your workplace health insurance. If you enroll in Medicare as soon as you're eligible, you may want or need specialty plans due to existing health conditions and medication needs.
When picking your Medicare plan, you've four different options to choose from:
Original Medicare A&B
Medicare Part D
Medicare Supplements
Medicare Advantage
You can learn more about each of these on the Medicare website here – but don't hesitate to call us at (207) 647-2900 for more details and a frank conversation. We're here to talk it all through with you, walk through your questions and make sure you're ready to have the retirement you deserve.
Checklist item: Speak with the team at Southern Maine Retirement Services to bring the big picture together and understand which Medicare plan(s) is best for you, your unique situation, and your budget.
Talk to Us
Our experienced team is here to assist you through your retirement journey in 2022 in the best way possible. If you have any questions, please feel free to call us at (207) 647-2900 or 1-(866) 866-4340 to discuss your Medicare options. We look forward to working with you and helping you have a smooth transition into retirement.